We design, build and remodel...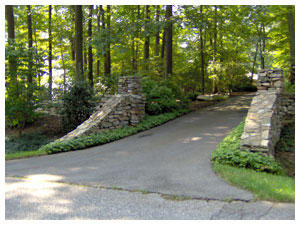 Brick and stone offer economical maintenance-free alternatives to poured concrete surfaces, wood decking or asphalt driveways. As the masonry paving systems compact, the brick and stone interact with jointing sand and base materials to achieve the unique quality of interlock. This secures the units, distributes the load and enables the surface to contribute to the strength of the entire system.

Whether a patio for outdoor entertaining, a meandering garden path or an impressive driveway, masonry paving adds charm and function to your design.


MASONRY SURFACE MAINTENANCE AND UPKEEP:
CLEANING, WATERPROOFING, AND REPOINTING
Artistic Masonry Contractors, Inc. performs masonry power washing, waterproofing services and repointing for repairs. On any property enhancement, vigilant care attention and continued maintenance will insure lasting quality.