Natural brick and stone hardscapes exude warmth and elegance...


Driveways & Sidewalks
Patios & Garden Walls
Ponds & Waterfalls
Steps & Landscapes
Retaining Walls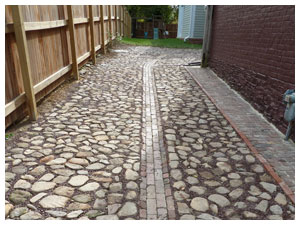 Masonry landscape walls convey a sense of strength, durability and permanence. Wide color and texture availabilities of brick and natural stone make them coveted choices for landscape application.

You might describe the stone-age rugged surfaces of brick and stone as natural patinas in perfect contrast with landscape plantings. Proper footer installation assures permanence. Yard maintenance and difficult mowing chores are minimalized with added floored square footage.

Whether a formal traditional design for extra outdoor seating, a casual curved accent or a functional retaining wall, brick and stone add distinctive appeal to your property.


Water Features
The soothing sounds of water set amidst nature's serenity is an attainable dream. Make it a reality! Call Artistic Masonry Contractors, Inc. We start with the best of the basics - natural brick and stone, then just add water! Our installation techniques assure long-term stability while achieving naturally harmony in design.
Our secret is to leave your water feature looking as though it had been created long ago by nature herself. Whether your choice is a traditional fountain or meandering stream, a dramatic cascading waterfall or a simple fish pond, the beauty of our craftsmanship will bring you one step closer to your dream design.
Entry Piers and Entrance Walls
You only have one chance to make a first impression and nothing is grander than solid masonry craftsmanship. Entry walls and piers are perfect compliments for the ultimate in privacy.
Signage piers and columns welcome visitors to planned developments, townships, and private residence while adding distinction and value to homeowners. Lighting conduit, security and intercom systems are easily incorporated. Whether the preferred medium is rustic stone or traditional brick, masonry is the perfect choice for a lasting first impression