Artistic Masonry Contractors, Inc. is recognized as a premier Mid-Atlantic source for Masonry Craftsmanship and Natural Stone Restoration Consulting and Complete Contracting Services. Call Today. 301-663-1306.
-or-
Email Artistic Masonry Contractors Inc. by Clicking Here. Please provide the location and description of your project.
Artistic Masonry Contractors, Inc.
Servicing Frederick County, Maryland and surrounding area.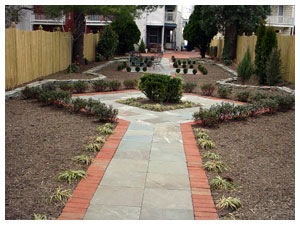 Started as an independent contracting company in 1978 and incorporated in 1997, Artistic Masonry Contractors, Inc. organizes and facilitates all phases for masonry contracting and consulting services. Serving Frederick County Maryland and surrounding regions.
Artistic Masonry Contractors, Inc. uses traditional old world craftsmanship for quality stone masonry
restoration
, renovation, as well as new
design build
.
Our specialty is Natural Stone Masonry for both residential and commercial clients. Artistic Masonry Contractors, Inc. is a well-known Frederick, Maryland stone mason contractor specializing in masonry craftsmanship and consulting services. For over 30 years, this specialized small-sized company's service location area is Frederick, Maryland and surrounding counties.
Artistic Masonry Contractors, Inc. featured work specialty is in natural stone historic restorations. The company prides themselves on following National Historic Preservation guidelines and standards.
Additionally, Artistic Masonry Contractors, Inc. accepts new designs and does custom work from sketch to finish. Independently operating for over 30 years, Artistic Masonry Contractors, Inc. continues to provide quality stone craftsmanship in and around the Frederick, Maryland area.
Artistic Masonry Contractors, Inc. offers all types of custom masonry services. Proudly an American company, the quality of completed works and diverse masonry projects boast an
extensive portfolio
.
The team is experienced in varying types and styles of custom masonry. Demanding high-elevation work has been accomplished with excellence. The best reference for Artistic Masonry Contractors, Inc. is word of mouth from satisfied clients.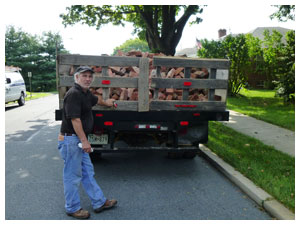 Lasting masonry creations can be found in many landmarks and private residence all around Historic, Frederick, Maryland and surrounding counties. Notable custom public projects include:
CITY OF FREDERICK, BAKER PARK BANDSHELL
, Frederick, MD;
RAILROAD SQUARE LANDING RETAINING WALL
, Brunswick, MD;
MIDDLETOWN ENTRANCE PIERS
, Middletown, MD.
Owner, Byron Lee Hawkins appeared on
The History Channel
in the role of his profession; this being, an Old World Traditional Stone Mason. Some may accurately assess that the stone mason of yester-year is fast vanishing tradesmen, but the allure and beauty of stone will never vanish. Simply stated, stone masonry craftsman are a rare breed.
The methods in use today at Artistic Masonry Contractors, Inc. mirror the hand chiseling, old world techniques, matching methods and materials with lime-based mortar finishes. These methods were used throughout history in quality builds. The aim is to match original in color, style, and profile. We work with
Virginia Lime Works, Inc.
in creating our made to match soft lime-based mortars. (see link below)
Interestingly, Artistic Masonry Contractors, Inc. completed works included projects such as: restoring natural stone exterior walls at The Pentagon, repairing a water feature at Camp David. A most recently completed restoration was done at the
National Historic Preservation Training Center
, Frederick, Maryland for The National Park Service, US Department of Interior.
http://www.nps.gov/training/hptc/
Residential and Commercial
The majority of completed work is residential, but there are many custom and diverse commercial projects, as well. Artistic Masonry Contractors, Inc. has completed many entrance piers and entrance signage for commercial property manager's needs. We use traditional old world and authentic materials in craftsmanship for accurate stone masonry restoration, renovation, or new design.
Special Types of Projects We Do
Historic Repairs, Restorations
New Design / Build Plans
Chimneys: Restoration, Repair, Preventative Maintenance or Rebuild.
Interior Fire Places
Pizza Oven Installations
Additions
Repointing
Restorations
Landscapes
Stone Garden Benches

Stairs
Steps
Porch Stoops
Work in Brick, Block, Stone, Concrete Product Fabrication or flagstone.
Hardscapes
Water Features
Ponds
Waterfalls
Retaining Walls
Sidewalks

Patios
Garden Walls
Natural Stone and Brick Beauty
Resetting of Interior/Exterior Openings for Doors and Windows
Paver Services
Parge and Plaster Services
Patterned Driveways
Resurfacing surface of any stone or brick
Independent Consultations Given
CALL OUT:
Artistic Masonry Contractors, Inc. will match original mortar with soft lime based mortar of same composition. We are a regular customer of
Virginia Lime Works
.
Our experience with historic restoration has built our reputation in our local region immersed as it is with historic original masonry.
Artistic Masonry Contractors, Inc. has developed a varied and extensive portfolio which is offered in the categories listed below:
Design / Build
Additions
Architectural Features
Piers and Foundations
Chimneys and Fireplaces
Fireboxes
Rumsford Burner
Inserts
Hearths
Mantels
Reface Exterior Elevations
New Construction


Interior Renovations
Repairs
Resurfacing
Split Rock Infil
Block Masonry Columns
Support Piers
Patios
Parging
Plastering
Tiling
Patterned Brickwork
Fireplace Restoration


Fireplace Repair
Fireplace Mantel Work
Signage
Wall Removal and Finish
Window or Door Relocations
New Constructions
Brick Sidewalks
Exterior Repairs and Renovations
Chimney
Fireplace Addition
Retaining Walls
Free Standing Exterior Fireplace with Smoke Stack
Stone Stacked Exterior Walls

I can honestly say I have sustained a consistent work ethic all these years, my goal has always been to offer fair-priced quality masonry services and strive to enhance my clients' surroundings with natural stone and brick beauty."
Because of my attention to detail and the quality of finished work my clients are very pleased.
My company employs the services of Artistic Masonry Contractors with complete confidence in their ability to perform the work for the wide diversity of projects we encounter. The talent, skill set and experience of their masons is invaluable in particular when matching and restoring historic masonry work."
Jim Irvine , James R. Irvine Construction , www.IrvineConstruction.com
Written Estimates are always provided to any potential client. Consultations can also be arranged in bid preparations.